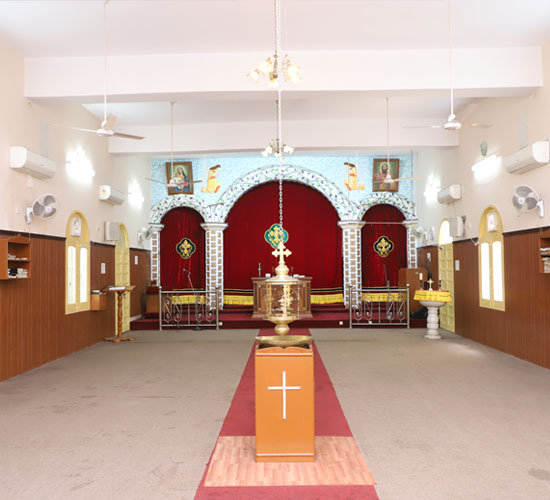 Parumala Church
ST.GREGORIOS ORTHODOX CHURCH, UDAIPUR
The church, ST. GREGORIOS ORTHODOX CHURCH (SGOC), UDAIPUR was established as a congregation on 16 July 1966 in the name of the great Patron Saint of Indian Orthodox Church, Late Lamented His Grace Geevarghese Mar Gregorios of Parumala.
In the year 1980, ST. GREGORIOS SENIOR SECONDARY SCHOOL, UDAIPUR was founded by SGOC, Udaipur. It is one of the premier co-educational English medium schools in Udaipur.
THE AHMEDABAD DIOCESE
The Ahmadabad Diocese was constituted on 2nd March 2009 by H. H. Baselios Marthoma Didymus I, vide Kalpana No. 93/2009. H.G. Geevarghese Mar Coorilos was the first Metropolitan In- charge of the newly formed Diocese. From 15th August 2010 H. G. Dr. Geeverghese Mar Yulios took charge as the Metropolitan. H.G. Dr. Geevarghese Mar Theophilos is the newly appointed Metropolitan of the Ahmedabad Diocese, which governs the Orthodox Churches and Societies in the states of Gujarat, Rajasthan, Madhya Pradesh and The Sultanate of Oman.

Contact Us Now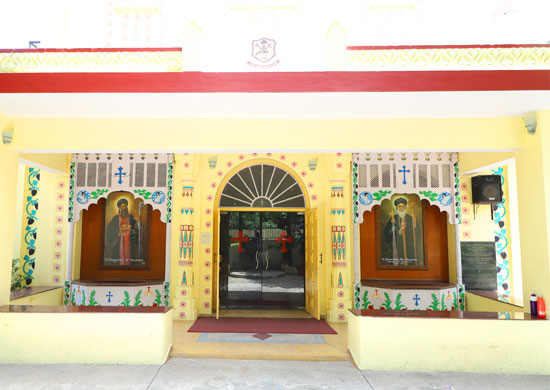 St. Gregorios Orthodox Church, Udaipur
At A Glance
Formation as Congregation :
16/07/1966
Formation of Parish :
19/08/1978
Patron Saint :
St. Geevarghese Mar Gregorios of Parumala
Foundation :
January,1987
Consecration day :
17/ 10/1987
Consecrated by :
H.G.Dr. Paulose Mar Gregorios
Diocese :
Ahemdabad Diocese of Malankara (Indian) Orthodox Church
Diocesan Metropolitan :
H.G. Dr. Geevarghese Mar Theophilos  (Vice President – St. Gregorios Orthodox Church Society, Udaipur (Raj.)
Supreme Head of the Church :
His Holiness Moran Mar Baselios Marthoma Mathews-III
Institutions :
St.Gregorios Senior Secondary School, Udaipur
Parish Membership :
70
Church Worship Schedule
Sunday :
07.30 AM Morning Prayer
08.30 AM Holy Qurbana
Wednesday :
07.00 PM Evening prayer & Intercessory Prayer (St.Mary)
Friday :
07.00 PM Evening prayer & Intercessory Prayer (St.Gregorios)
Evening Prayer every day at 7.00 p.m.
Spiritual Organisations :
Sunday school, Youth Movement, Marthamariyam samajam & MGOCSM.
Vicar :
Rev. Fr. Jose V Mathew
ADDRESS :
St.Gregorios Orthodox Church,
P.B. No 172, Khara Kuan,
New Bhupalpura,
Udaipur-313001, Rajasthan, (INDIA)
Phone: +91 294-2410439 / 2413801

Our
Patron
Read More


The
Society
Read More


Management
Committee
Read More


The
Leadership Team
OUR TESTIMONIAL
Alumni Testimonials
Affiliated to the C.B.S.E. New Delhi
St. Gregorios Sr. Sec. School.
The Church